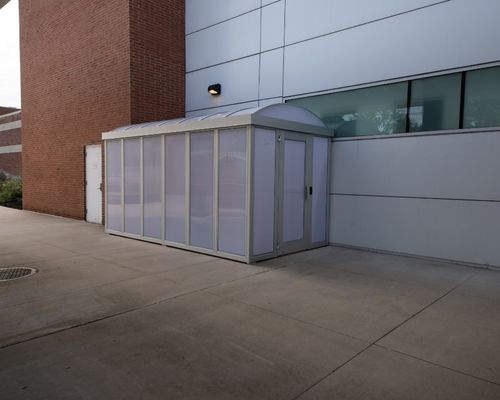 Although the wintertime is beautiful, the weather can become frigid. Cold temperatures creep inside buildings and outdoor structures. However, you don't have to deal with inclement weather affecting bike enclosures. Read the ultimate guide to winterproof bicycle shelters and improve yours today!
The Importance of Winterproofing
Winter brings cold temperatures and snow. Depending on your area, winter may be grueling with harsh conditions. To prepare for the season, you should winterproof buildings and outdoor structures. Doing so prevents cold weather from entering your space.
When you think of winterproofing, the idea of prepping your main building may come to mind. For instance, caulking windows, sealing cracks, and adding insulation are all ways to keep the cold wind out. However, winterproofing bike shelters is also an essential thing to do.
Most bike shelters are outside and experience constant contact with chilly weather. Though winterizing an outdoor structure presents some challenges, it's not impossible and is definitely worthwhile!
How Cold Weather Affects Bikes
Cyclists enjoy bike rides any time, including winter. Generally, it's safe to ride bikes during the season. However, the only drawback is storage. If left outside, bikes can become damaged because of cold and snowy weather that degrades the material. When snow sticks to bikes, the moisture will cause them to rust.
Over time, the rust will corrode the bikes and affect their performance. Rust eats away at the metal, making it difficult to peddle. In severe cases, rust will break down the bike chain, causing it to snap and making the bicycle unusable.
Other than snow issues, chilly temperatures affect the bike's wheels. The wheels lose air pressure fast in cold weather. With low pressure, the wheels have too much friction with the ground. Eventually, they'll lose their supportive shape, and cyclists will feel unstable while riding.
In both winter scenarios, bikes are at risk of damage. Understandably, no cyclists want to deal with troubles during the season. Fortunately, winterproofing does the trick!
How To Winterproof Bike Shelters
The best way to protect bikes during the winter is to place them in enclosures. The structures prevent inclement weather from affecting bicycles. To have an effective shelter, it's essential to prep it for the upcoming season. Here's how to winterproof bicycle shelters.
Start With a Covered Shelter
Always start with a covered bike shelter. Enclosures are the best options for weather protection. Cyclists don't have to worry about snow sticking to their bikes or fear chilly temperatures. Along with providing weather protection, covered enclosures prevent theft with their heavy-duty doors, shatterproof glass, and locks.
Make Sure the Space Is Dry
Outdoor bike shelters encounter chilly temperatures. To ensure your shelter is a good unit, make sure the space is dry. Get rid of snow, ice, and debris that come inside. You don't want moisture to affect the bikes.
It's also important to watch out for leaks. Melted snow and rain may seep into the structure and affect bikes. Do a walk-through of the enclosure to ensure that everything is in good condition.
Incorporate Infrared Heating
A ceiling-mounted infrared heater is a perfect addition to bike shelters. As cyclists store and retrieve their bikes, the shelter will keep them warm. Additionally, the heater will keep the shelter at a stable temperature. Frigid temperatures won't freeze bikes or degrade materials. A heater is definitely a winterproofing must-have item!
Add Solar Lighting
For illumination, add solar lighting to the shelter. On gloomy days, the shelter will be visible to cyclists. Although solar fixtures don't produce much heat, they're still a great feature to incorporate. They pair with infrared heaters to create a suitable atmosphere for the shelter.
Bonus Feature To Help Cyclists
Commuting during the winter is challenging. During inclement weather, the last thing a cyclist needs is a malfunctioning bike. For quick repairs, place a repair kit inside the shelter. If cyclists encounter issues, they can service their bikes inside the shelter. Provide all the essentials! The kit should include the following:
A tire pump
A screwdriver
Chain lube
A hex wrench
Cleaning solutions
Duct tape
A pedal wrench
Needle-nose pliers
Zip ties
Enhancing Site Conditions
When it comes to installing a bike shelter, its placement is a major factor to consider. Ideally, a shelter that's visible to cyclists and in a central location is best. To encourage cyclists to use the structure, you must keep the surrounding area well maintained (especially during winter).
Shelters that have snow and ice surrounding them aren't enticing to visitors. In fact, they may turn people away because they fear accidents, such as slipping on ice. Luckily, there are strategies to improve a bike shelter's site. Check out these ways to enhance site conditions:
Clear snow away from the shelter's entrance. Doing so prevents cyclists from tracking snow inside the enclosure.
Create a clear path to the bike shelter. This grants easy access to the structure without ice and sleet covering the trail.
Do frequent checkups. For instance, after a heavy snowfall, check the enclosure to ensure snow hasn't intruded into the shelter. If it has, clear the debris away.
Place rock salt around the enclosure. The salt eats ice and prevents cyclists from slipping on snow.
When Should You Winterproof?
The best time to winterproof is before winter. Toward the end of fall, temperatures decrease, and the weather becomes chilly.
Before the new season, you should prepare the bike shelter. Make sure the enclosure has lighting and a heater. It's also a good time to assess the overall unit. Check doors and locks to ensure they work properly.
Don't wait until winter to adjust the bike shelter. Take all the necessary steps early! Cyclists will appreciate the extra care!
Get the Most Out of Your Bike Shelter
People need bike storage year-round. Businesses, schools, and apartment buildings are places that incorporate shelters near their facilities. Get the most out of the shelter by ensuring access to the unit.
That said, winterproofing bike shelters is a critical task. Without it, people may leave their bikes uncovered and unprotected from outdoor elements. This also makes property vulnerable to theft. In some cases, cyclists may store their bicycles inside buildings.
They shouldn't have to deal with alternative storage when a shelter is the best option. Accommodate people's needs and prepare the enclosure for the winter season. You won't regret this decision!
Let Handi-Hut Help You
Handi-Hut bicycle shelters are superior because they meet all bike parking needs. Purchase one of our covered shelters like the Guardian or Peapod. If you're looking for something different, make a custom enclosure! Choose your roof styles, size, and accessories. We're here to bring your vision to life. If you have any questions, contact us today!