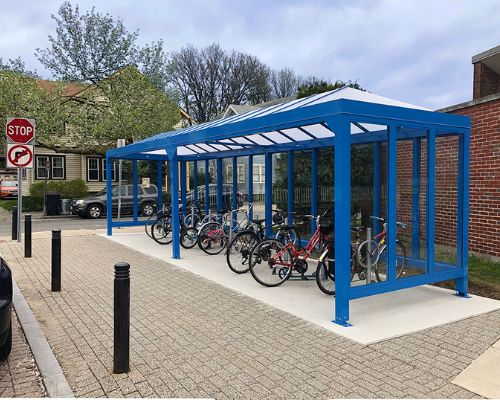 Securing your bicycle is essential for various reasons. Whether you're parking the bike to enter local shops or storing it away for the day, protection is key. When it comes to your parking options, it's best to differentiate the selections. Read this quick guide to understand the differences between covered bike shelters and bike racks.
Appearance
Outdoor bike racks have different appearances. People can secure their bicycles with personal locks, from U-racks to double-decker options. Covered shelters also have various appearances, and the distinct covering makes the parking option identifiable. Depending on the area, covered enclosures may have locks that specific people can access (i.e., apartment residents, students, staff). In comparison, bike racks are available to the general public.
Parking Time
Parking times vary depending on the available options. Covered bike shelters are ideal for long-term parking because the enclosure protects bikes from environmental conditions and theft. Bike racks are the best short-term option because they're easily accessible to the public. Both methods allow cyclists to store their property; covered shelters offer more security, while bike racks are more convenient.
Location
A significant difference between covered bike shelters and bike racks is location. You'll likely see bike racks in high-traffic, public areas. Popular locations include parks, building entrances, transit stops, and shopping areas. Racks are available to the public and allow cyclists to keep an eye on their bikes while engaging in activities.
Given that covered enclosures are ideal for long-term parking, security measures are essential to this storage option. Bike shelters are usually positioned near apartment buildings or dormitories with security guards or cameras. Though the enclosures are accessible to users, they're not as visible as bike racks. The "hidden" aspect mitigates the risk of theft and vandalism.
Need Bike Parking?
Need bike parking? No problem! If you're interested in purchasing bike racks or covered bike shelters, select Handi Hut as your manufacturer. Our prefab shelters are superior in quality and easy to install! Get started on your order by calling us today.