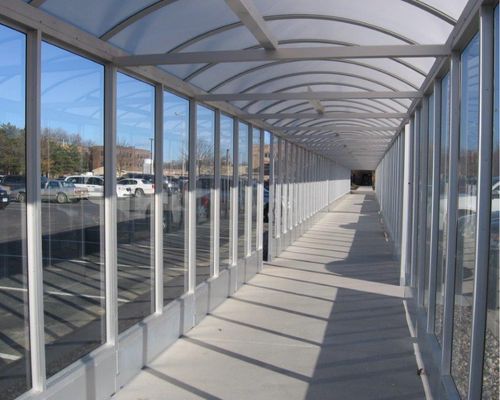 Prefabricated structures endure various weather conditions. And if you want to know how weather affects prefabricated shelters, you should read this guide to learn more. Also, check out our excellent maintenance tips for beneficial advice.
Purpose of Prefabricated Shelters
A prefabricated shelter aims to protect people or equipment from environmental elements. Manufacturers create structures that shield items from rain, snow, and UV rays with different materials like aluminum or stainless steel. Standard prefabricated enclosures include transit, smoking, and bike shelters. Additionally,  walkway covers are another distinctive shelter that protects people while they enter and exit buildings.
Effects of the Weather
Given that prefabricated structures are outdoors, they endure various environmental conditions. And depending on the enclosure's material, the weather can have harsh effects. One way weather affects prefabricated shelters is by collecting residue from rain droplets. Rainwater carries bacteria and tiny particles of dirt and dust. When it accumulates on shelters, it can leave a cloudy white film on the exterior. This tarnishes the overall appearance and aesthetic of the shelter.
Maintenance Tips for Prefabricated Shelters
The bacteria and particles from environmental elements can hinder the appearance of prefabricated shelters. Therefore, it's crucial to maintain the enclosure to ensure it's clean for public or private use. Here are some important maintenance tips:
Wash the enclosure windows and exterior or enlist a shelter cleaning service.
Place a trash can inside the shelter to reduce littering. Also, make sure to change the trash bag when it's full to avoid garbage overflow.
Clean the enclosure's floors once a week. Sweep away debris like cigarette butts, broken glass, paper bags, etc.
Wipe away graffiti with paint thinners or removal products like WD-40 or Goof Off.
Handi-Hut's standard and custom shelters provide protection from all types of weather. And by following good maintenance practices, your shelter will withstand the environment while keeping its appearance. If you're interested in purchasing a prefabricated enclosure, contact us today for a price quote.