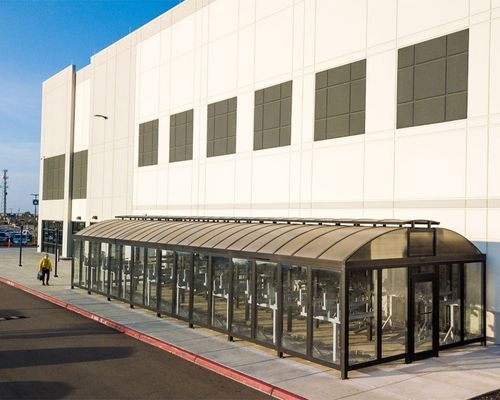 Seeking enclosures for your business is an exciting process. You can choose various models, shapes, and accessories to enhance the space. However, it's essential to consider size when planning your structure. Keep reading to learn more about how to find the right-sized enclosure for your business.
Why Do Businesses Need Enclosures?
Business owners can make the workplace comfortable for employees and customers by installing different enclosures. They offer secure spaces to sit outside the building or store bicycles (bike shelters). You can think of the structures as investments as they enhance your establishment and create a better visitor experience.
Should I Buy an Enclosure?
You should absolutely buy an enclosure for your business! The structures prove your willingness to accommodate employees and patrons. And with various structural options, you can select a standard prefab shelter or create a specialty one! Regardless of your choice, you're making a good decision for your establishment.
Common Types of Enclosures for Businesses
When you're interested in installing prefabricated enclosures for your business, it's best to look at all your options. Here are the common types of enclosures for businesses:
Transit Shelters
A business near transit stops can set up transit shelters to accommodate employees and customers. This option gives people a secure space to wait for incoming rides. People enjoy the shelters because it shields them from environmental conditions like rain, snow, and harsh UV rays.
From small transit shelters like Handi-Hut's Series 3 to larger ones like Series 6, you can select the shelter that fits your business's needs. Furthermore, ensure that the transit shelter offers visibility for your patrons, meaning they have a clear view of the street and incoming buses or rideshare cars.
Smoking Shelters
Strict laws prohibit smoking indoors in public spaces, including businesses. However, many owners seek ways to follow the law while also accommodating employees and clientele who choose to smoke. Fortunately, smoking enclosures offer an efficient space to permit smoking (away from the building).
Smoking shelters are one of the most popular enclosures at various businesses. Many include accessories like trash cans and smoker poles! Smoking enclosures accumulate debris like cigarette butts and trash; therefore, it's best to clean the shelter and change trash bags frequently.
Bike Shelters
Biking is an eco-friendly commute option that many cyclists partake in. To encourage this sustainable travel, you can install a bike shelter to help workers. These enclosures are parking spaces that store bikes. When employees arrive to work, they place their bikes in the shelter and won't have to worry about theft or damage.
You can install bike shelters inside parking garages or near the establishment's entrance. Additionally, signage helps workers locate the enclosure. A "bike parking here" logo or directional signage inside garages is beneficial.
Specialty/ Custom Enclosures
There's no one-size-fits-all solution for prefabricated enclosures, and you may seek a unique option for your company. Luckily, specialty and custom enclosures can accommodate your specific needs. Perhaps you want a picnic shelter that allows workers to eat outside. Maybe you want an attendant booth inside the parking garage to house security. There are so many possibilities!
When creating your custom enclosure, write down your intentions for the space and consider any extra features you'd like. For the picnic shelter idea, trash cans and solar lighting can enhance the area. You can also discuss specific features with the manufacturer, who can help you create the best enclosure.
Walkway Covers
Do employees have a long walk from the parking lot to the building? Do you want a cover over your business entrance? If so, walkway covers come in handy! Like enclosures, the covers shield people from environmental elements. It's a great addition to many buildings and something you should consider.
Finding the Perfect Fit
When you need to find the right-sized enclosure for your business, you must consider potential visitors. Who will utilize the enclosure? For example, if you own a large company and encourage sustainable and eco-friendly initiatives, you can expect many employees to use bike shelters. You can select larger enclosures like the Guardian or BikeGarage to hold the bikes.
In other instances, if you have an establishment near areas of high-foot traffic, a midsize transit shelter can help. Instead of people standing outside your business waiting on rides, a shelter lets them sit in one area.
To determine the required size for your enclosures, assess your company and surrounding area. Consider midsize to large enclosures if you permit customers and employees to utilize the space. However, a small structure works best if the shelter is exclusive to workers.
Things That Influence Enclosure Decisions
Other things can influence your enclosure decision. Here are a few aspects to keep in mind:
Placement: Depending on the area, you must acquire permission to install a prefabricated enclosure. This will influence placement as specific codes regulate how far the shelter can be from the business.
Accessories: Enhance your waiting shelters with accessories. Make note that accessories can take up space and impact seating.
Aesthetic appeal: One of the best things about enclosures is that you can design them to match your business aesthetic.
Display opportunities: Transit shelters have large windows that allow business owners to use the space as an advertising opportunity. If you're interested in utilizing the space, sizing and placement will affect the decision.
Environment: Of course, outdoor shelters withstand weather conditions. But your environment influences the lifespan. Areas with frequent rain can lead to corrosion and rust on the shelter. This can lead to the need for regular maintenance.
Basic Enclosure Maintenance
Frequent cleaning improves your business by keeping things tidy for employees and customers. Think of your prefabricated enclosure as an extension of your establishment and maintain the space! Sweeping, wiping away dirt, and regularly assessing the structure will extend the shelter's lifespan.
You want people to use the enclosure and not turn away because the shelter lacks care and maintenance. You can create a schedule that ensures that you uphold the structure. For instance, basic cleaning once a week and deep cleaning once a month are good practices.
Importance of Selecting the Right Manufacturer
When you want a prefabricated enclosure, selecting the right manufacturer is critical. Ideally, you want a structure that withstands weather and frequent visitors. So, the material directly impacts the lifespan. Unfortunately, some companies use flimsy materials that won't last long.
Luckily, those companies aren't Handi-Hut. An outstanding reputation for producing high-quality enclosures makes Handi-Hut the best manufacturer. From transit shelters to walkway covers, we have superior material to create the prefabricated enclosure of your dreams. Don't choose just anyone when you can choose the best right here!