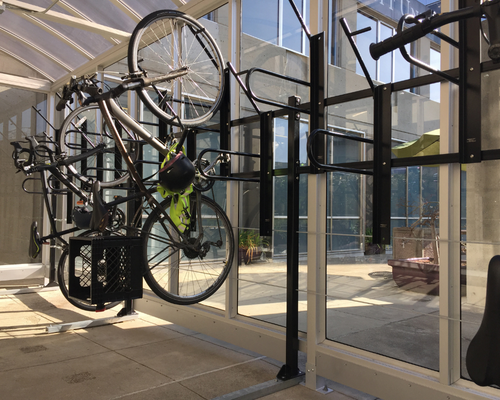 Long-term parking is for anyone who parks their bikes for more than three to four hours. Therefore, it's important to make the location safe and secure. To understand the proper requirements, read these guidelines for providing long-term bike parking.
Security and Weather Protection
All long-term bike parking options should be in a secure, adequately covered area for weather protection. Acceptable locations include:
A space enclosed by (at least) an eight-foot fence with a locked gate.
An area within view of an attendant or security guard—for example, a 24-hour parking garage attendant or 24-hour security service.
A large room in an apartment or condo complex with a secured entrance (keypad or key) and security camera monitoring.
An indoor workplace where employees can monitor their bikes.
Bike Shelter Design
One of the best things about bicycle shelters is that they come in various designs and colors. However, it's best to choose a shelter with a spacious interior, shatterproof glass, and vertical racks for long-term parking. These features allow people to park their bikes with ease and enable monitoring. In addition, shatterproof glass can prevent theft!
Location
Depending on the intended audience, parking locations vary. For example, in residential use, bike shelters must be on-site (in an apartment or condo complex). Bike shelters in parking garages must be on the same level as the garage entrance. And all bicycle parking areas should be well-lit to invite cyclists to park. Location is important because it enhances protection, as people can easily pinpoint their bikes, and security detail can monitor the space.
Directional Signage
Another guideline for providing long-term bike parking is directional signage. Proper signage and pavement markings must be in the area when parking facilities aren't visible from the street or sidewalk. In parking garages, painting a path to the shelter helps cyclists find the designated space. On the shelter itself, a clear "bike parking" sign is also helpful to many people. Ultimately, cyclists must know that the space is available.
Handi-Hut prefabricated shelters can meet a wide range of bike parking needs. So if you're looking for long-term parking options, please reach out to us. We guarantee great service and quality products!