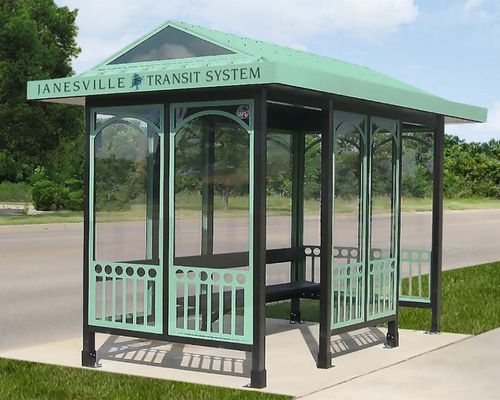 Transit shelters are commonplace at train and bus stations, offering people convenient places to wait for their rides. So, when you're in charge of finding and installing a suitable shelter, you must know what differentiates great models from lackluster ones. Use the guide below to learn the top factors to consider when buying transit shelters.
Available Space
Always consider how much space is available for your transit. That way, you can find a shelter that accommodates the nearby transit riders comfortably and safely. For example, Handi-Hut's 3 Series transit enclosures are available in sizes like 7'5" x 2'6" and 7'5" x 5'.
We also carry 6 Series enclosures in various dimensions, including 15' x 5' and 15' x 7'6". Therefore, you can find a shelter model capable of fitting your needs perfectly, whether you're placing it in a bus stop or train platform.
Appearance
One of the most important factors to consider when buying transit shelters is their appearance. Ideally, transit stations should look inviting and aesthetically pleasing. That way, your shelter can attract transit riders rather than repel them.
Aesthetics might not sound immediately integral to bus stations or train platforms, but they impact how welcoming the enclosures feel. Rather than install an eyesore in the community, you should invest in an enclosure that reflects the area's warmth and appeal nicely. Thankfully, you can easily find transit shelters in various sizes, colors, and designs to suit your needs.
Accessories
Transit shelters alone can be durable and reliable. But you must consider the additional accessories that can further optimize these structures. As a professional transit shelter manufacturer, Handi-Hut carries accessories for enclosures, such as USB charging stations and schedule boxes. As a result, you can tailor the structure to your needs conveniently.
Other great enclosure accessories include benches and trash bins, which can help create a comfortable, clean space. Likewise, ad panels make it easy for transit shelter owners to install advertisements. By considering all three of these factors before buying a transit shelter, you can optimize the structure to meet your needs and the needs of the occupants who will use it daily.