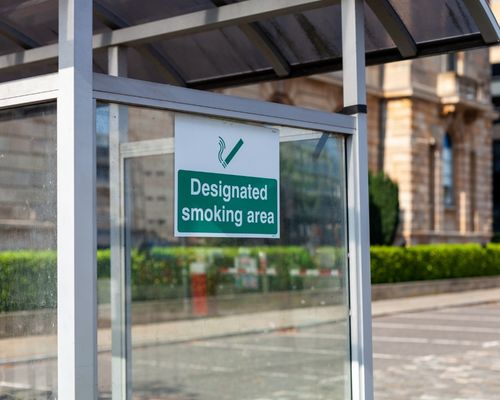 Business owners have many responsibilities, and they must provide workers with the right things. Keep reading to learn if an employer has to provide a smoking shelter. The answer may surprise you!
The Answer
Employers don't have to provide a smoking shelter for their establishment. State and local laws prohibit smoking in public places, including businesses. Employers who prefer smoke-free environments don't have to install a smoking enclosure.
However, many business owners accommodate smoking employees by installing prefabricated enclosures. This complies with laws, as individuals don't smoke inside the workplace, but they have a space outside the building to smoke.
Why Smoking Shelters Are Helpful
Prefabricated enclosures accommodate smokers while respecting non-smokers. Without a designated smoking area, people turn to parking lots or building entrances to smoke. The fumes can disturb non-smokers and contribute to secondhand smoke problems, such as lung disease and respiratory issues.
Fortunately, smoking shelters create safe environments to smoke and let non-smokers evade the area. They're great for various workplaces, and business owners should incorporate them outside their buildings.
Add a Smoking Shelter to Your Business
Adding a smoking shelter to your business is easier than you think. Manufacturers (like us) create prefabricated enclosures in a controlled factory setting. With various models, sizes, and colors to choose from, you can select the perfect shelter for your business. Accommodate employees or customers with the right smoking shelter model.
For instance, the S3 Series holds three to four people, which is perfect for small businesses. The S5 Series accommodates six to seven people, making it ideal for large companies. You can also create a custom enclosure that fits your precise sizing requirements.
Make Your Enclosure User-Friendly
Smoking shelters are beneficial to many workplaces. Make the space user-friendly to encourage visitors to utilize the enclosure. Accessories like USB charging ports, benches, and a cigarette butt receptacle are all useful features. Furthermore, you can add solar lights and exhaust fans to amplify the user experience.
Let Handi Hut Help
When purchasing a smoking shelter, buy one from a leading manufacturer. Handi Hut is the best of the best. We produce top-quality prefabricated enclosures for all kinds of businesses. Start your order today!