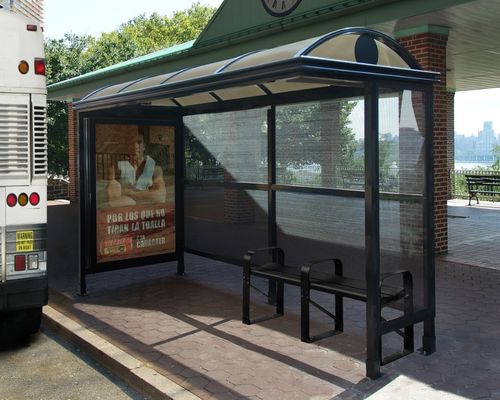 Waiting shelters are more than places for commuters to wait for their bus rides. They're places where business owners and government officials can promote their establishments and public transportation. If you're interested in learning more about this, read our benefits of waiting shelters for bus stops.
Promotes Public Transit
Waiting shelters promote public transit by offering commuters a safe space to wait for the bus. This improves the overall transportation experience and may change people's perception of riding the bus. Due to the increased comfort that it provides, a designated waiting spot encourages more people to ride the bus or select other modes of public transportation.
24/7 Advertising Opportunity
One of the best things about bus stop shelters is that they offer businesses a 24/7 advertising opportunity. Whether commuters wait at the stop or pedestrians pass by, you can advertise your business on transit shelter displays. Businesses love bus shelter ads because they provide brand exposure to a wide audience, and you can catch someone's eye with a creative ad copy and image.
Efficient and Easy To Assemble
Waiting shelters are efficient and easy to assemble. After purchasing one, you can expect low-cost and easy assembly in your preferred location. Then, commuters will have instant access to the shelter. Bus shelters are durable and great in various locations, making them worthy investments for business owners or government officials.
Attracts Customers to Businesses
A strategically placed bus shelter can attract customers to businesses. Generally, people like access to commercial areas with high foot traffic because that's where they shop, enjoy restaurants, or visit local attractions. Businesses with limited parking options can benefit from waiting shelters because customers can access their establishments without worrying about finding parking or struggling to find the nearest bus stop.
Bus shelters are great for various reasons. Whether you're a government official wanting to promote public transit or a business owner wanting to attract more customers, waiting shelters are the way to go! Ultimately, we hope our discussion of the benefits of waiting shelters for bus stops was beneficial to you.
If you're interested in purchasing a transit shelter, you should contact Handi-Hut. As a pioneer of prefabricated aluminum bus stop shelters, we guarantee a high-quality and durable shelter. If you have any questions, call us today!