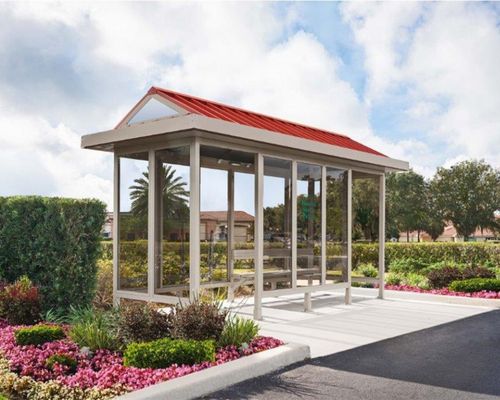 Bus stop shelters offer awesome benefits next to weather protection. It's important to acknowledge their role in cities and towns. Read the advantages of prefabricated bus stop shelters for more information!
Accommodates Commuters in Specific Areas
Bus stop shelter placement isn't random. A government official or business owner seeks enclosures for certain areas. In most cases, the shelter is near a bus stop and accommodates commuters. In high-traffic areas, the shelter is a helpful space for people to wait for their ride. Instead of overcrowding open spaces, the enclosure creates a safe place for bus riders to wait.
High-Quality Construction
An important thing to know about prefabricated bus stop shelters is their high-quality construction. Manufacturers create prefabricated enclosures in a controlled setting with durable materials. The structures withstand weather conditions like rain, snow, and UV rays without rusting or chipping and maintain appearances for years! Prefab bus stop shelters are also low maintenance, making them perfect for any area.
Flexible Design Capabilities
Flexible design capabilities are another advantage of prefabricated bus stop shelters. Manufacturers create custom structures for clients, allowing them to incorporate specific features and accessories. For example, shelters can have solar lighting, USB charging ports, and benches. The features make the enclosure user-friendly and encourage commuters to use the space. Furthermore, sign frames and schedule holders help people navigate their routes!
Offers Continuous Weather Protection
The main purpose of a transit shelter is to safeguard passengers from weather conditions (i.e., wind and rain). Commuters need reliable enclosures to wait for their ride and don't want to deal with inclement weather ruining their public transportation experience. After all, who wants to arrive at their destination soaking wet from the rain? Continuous weather protection is an important factor for all bus stop shelters.
Purchase a bus stop shelter from Handi Hut! With undeniable quality, our enclosures are long-lasting, durable, and aesthetically pleasing. We're the best manufacturer for a reason, so start your journey with us soon!