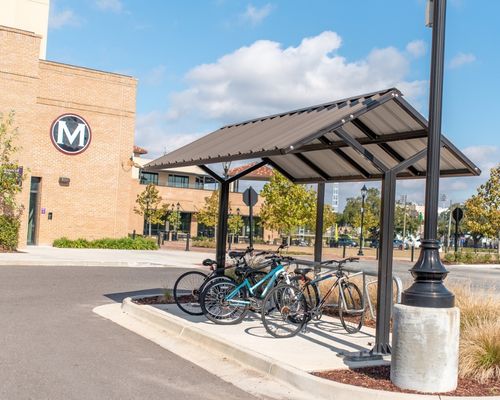 Schools think of ways to promote healthy living and sustainable commuting every day. And one solution is biking to and around campus. Biking is a popular transportation method that faculty and staff can use with the administration's help. If you're curious why your school should consider this bike parking option, read these five reasons why your school needs bike racks.
What Is a Bike Rack?
A bike rack is a stationary structure that allows people to safely park their bikes. These racks are some of the best and easiest short-term parking solutions that prevent bicycle theft. Additionally, a bike rack doesn't disrupt traffic, and it protects riders from vehicles and pedestrians! Many public and private spaces use bike racks to accommodate cyclists.
Popular Bike Rack Locations
Given that bike racks are a short-term parking solution, these structures are great for communal settings. They're popular in high-traffic areas, public spaces, and commercial buildings. In many cases, they're near the entrance of buildings because cyclers can have easy access to their bikes there, and their visibility is high. Efficient bike racks don't block pedestrian traffic or vehicle traffic because injuries can occur if they do. Here are some places where you may see a bike rack:
Office buildings
Libraries
Grocery and retail stores
Schools, colleges, and universities
Government buildings
Parks and recreational facilities
Gyms and fitness centers
Types of Bike Racks
Did you know that there are different types of bike racks? Although you may not study various bike parking options, there are various racks make parking easy and accessible to many cyclists. The four most popular bike racks are the U-rack, wave rack, grid rack, and double-decker rack. U-racks are the most common because they're reliable and great for open locations. Wave and grid racks offer more parking space than the U-racks, so they're ideal for high-traffic areas. Lastly, double-decker racks are two-tier bike racks that significantly increase the storage capacity of bikes.
Benefits of Bike Racks
As more people ride bikes, cyclists will experience the benefits of these stationary structures. Among the several advantages they can bring to a community, these are the top benefits:
Increase parking capacity: A row of bike racks can accommodate more people than a single parking space.
Discourage overcrowding: Bike racks designate an area to park bikes, and without them, bikes may overcrowd pedestrians' walkways or obstruct the street.
Prevent cutting or bending: Improperly stored bikes are susceptible to damage because failing to lock bikes in an upright position can bend or cut into their materials.
Encourage cyclists to support businesses: Bikers are more willing to visit establishments when they know their bikes are safe and secure.
Boost sustainable commuting: Government officials, communities, school heads, and other leaders can encourage eco-friendly travel through bike racks.
Why Your School Needs Bike Racks
Bike racks are convenient additions to many public spaces, including schools. And given the heightened popularity of sustainable commuting, bike racks encourage clean traveling. But you should also consider our five reasons why your school needs bike racks.
Reason 1: Offer Safety and Security for Bikes
The main commuting options for schools are cars, bikes, and public transit. And like people driving to school, cyclists need spaces to park their bikes. A lack of bike racks or bike parking options will lead to cyclists finding unconventional methods to store their property. For instance, they may lock their bikes to gates and outdoor seating structures or lean them against buildings. This creates an inconvenience to students and staff and makes bikes susceptible to theft. Fortunately, racks offer safety and security for bikes! When people arrive at school, they have the assurance that their bikes will remain in place until they go home.
Reason 2: Promote a Healthier Lifestyle
Did you know that frequent cycling improves heart and lung circulation? It also strengthens muscles and improves mental well-being. So biking is a good commuting option that can also enhance someone's physical and mental health. Schools with bike racks prove that they care about student and faculty health and ensure safety for their bikes throughout the day. Additionally, school bike racks can complement any campus!
Reason 3: Reduce Traffic Congestion
Typically, 6 a.m. to 9 a.m. is a popular commute time, and traffic is heavy in school districts. Because people are going to work and various activities and parents are dropping off their kids, traffic congestions are common. However, schools can reduce traffic congestion by installing bike racks! Doing so will decrease the number of cars arriving at school. It also enables a simple arrival experience as students and staff can access bike racks near the entranceways.
Reason 4: Encourage Students and Teachers To Bike
The best way to encourage people to do something is by making the action easy to perform or providing convenient tools. In this case, bike racks are convenient because they offer cyclists a secure spot to leave their bikes. If schools have a limited number of bike racks or none, and the administration is looking for ways to promote sustainability (or healthy lifestyles), bike racks are the way to go!
The administration can highlight bike racks and talk about why students and staff should bike to school. Even if a small number of people initially use the racks, they'll still make an impact on the environment and campus culture.
Reason 5: Support Clean Air Initiatives
The United Nations Environment Programme, the World Health Organization, and the Climate and Clean Air Coalition have created the "Clean Air Initiative," which states that governments should take steps to improving air quality for their citizens. However, citizens play a vital role in this initiative as well since they can control their carbon footprint. By not using gas or releasing air pollutants, bikes don't release harmful toxins into the atmosphere. Ultimately, people can opt for this transportation method to help the environment. Schools can further support this initiative by installing bike racks and making other green changes.
Where To Purchase Quality Bike Racks
Now that you understand the reasons why schools need bike racks, you're probably wondering where you can purchase one. And luckily, you're in the right place! Handi-Hut is a top manufacturer of prefabricated enclosures, including bike racks. From covered bike shelters to various accessories, we have everything you need.
We can meet a wide range of bike parking needs, site conditions, aesthetic styles, and budget considerations. When you're ready to install, just give us a call!